Appraisals
Jeremy appraises books, manuscripts, photographs, and related materials on the history of medicine, science, technology, natural history, and economics for purposes of insurance, estates, or donation to non-profit institutions.
Over the years Jeremy has done hundreds of appraisals, large and small, concerning material from the Middle Ages to the present. Jeremy has a special interest in appraising archives and donations relating to nineteenth and twentieth century science, medicine, technology, and corporate archives in related fields. Among the personal archives he has appraised are those of: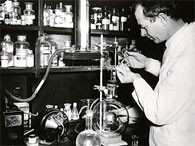 Linus Pauling
Jeremy has also appraised corporate archives.
In June and July 2006 Jeremy appraised the pre-1850 portion of the rare book and manuscript collection of Stanford University's Lane Medical Library. The project, conducted on the hundredth anniversary of the foundation of Lane Library, involved reviewing and ranking approximately 4500 individual items, making a selection of the top 100 items in the collection, writing detailed annotations for the top 100 items, and writing an illustrated introduction discussing the history of the formation of Lane's historical collections in the context of the history of Stanford Medical School.
In January 2008 Jeremy collaborated with fellow ABAA member and tax lawyer, Bruce Barnett, on the appraisal of frozen ampoules of the human diploid cell strain WI-38 donated to the Coriell Institute for Medical Research by the developer of the cell strain, Leonard Hayflick. WI-38 is among the most widely-used, and the most highly characterized normal human cell population. This may be one of the first appraisals of living material for donation to a non-profit organization.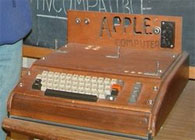 Apple 1
In March 2008 Jeremy appraised an original Apple 1 computer for donation to the American Foundation for the National Museums of Scotland. The founding product of Apple Computer, the Apple I is one of the rarest and most desirable collector's items in the history of personal computing. The entire production consisted of only 200 examples. The donation included an original Apple 1 computer with its optional cassette tape interface, matching vintage keyboard, 12 inch black and white video monitor, the original computer manual, cassette tape interface manual, warranty, schematic diagrams, hardware and programming manuals for the MOS Technology 6502 microprocessor, Apple BASIC documentation, and computer programming documentation created by the original owner.
In October 2011 Jeremy appraised a collection of original computing devices, including probably the only surviving example of Edward Berkeley's Simon, which has been called the first personal computer, and the unique Squee, the Electronic Robot Squirrel, which has been called "The first of the true robots." These were donated to the Computer History Museum in Mountain View, California, by its co-founder, C. Gordon Bell.
Among Jeremy's newer appraisal interests are establishing the fair market value for intellectual property in digital form, such as digital images or digital films.
If you have books, manuscripts, photographs, or related materials that need appraisal, please contact us to schedule an appointment.
Rare 17th Century Account of a "Near-Death Experience." Atherton. A miraculous proof of the Resurrection. More »
back to top