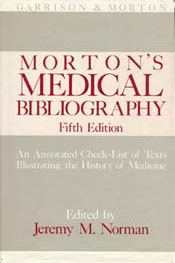 Morton's Medical Bibliography Fifth edition, revised and enlarged.
Jeremy M. Norman, Editor
$250.00—Out of Stock
1243 pp. Hardcover. ISBN 0-85967-897-0. Published by Scolar Press. 1991. 14154.
The standard bibliographical reference, providing, in convenient form, an annotated chronological listing of the most important contributions to the Western world literature on the health sciences from ancient times to circa 1980. Secondary sources are included up to roughly 1990. The annotations briefly explain the significance of individual contributions to the history and development of the bio-medical sciences.
Jeremy Norman revised the fifth edition from the first entry all the way through to the end. Certain sections he extensively revised, expanded and updated; others he only slightly corrected. He changed virtually every section in some way.
There are new sections for Ecology, Paleoanthropology: Human Prehistory, Teratology, Medical Education and the Medical Profession, Resuscitation, Aviation Medicine, Paleopathology, Sports Medicine, Pediatric Surgery, and Alternative Medicine: Acupuncture (Western References). Historical references to Geriatrics were significantly expanded with the section on State Medicine: Public Health: Geriatrics: Hygiene. The sections on Anatomy and Medicine in Art were extensively rewritten and expanded. In all, 1051 entries were added, 2313 annotations were revised or rewritten, and 119 entries were deleted. From approximately 7800 entries in the fourth edition, the work was expanded to a total of 8927 entries.
In 1994 this work received the award for Best Reference Work from the Archivists and Librarians in the History of the Health Sciences.
back to top