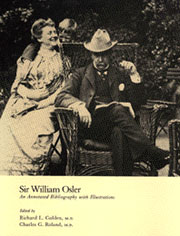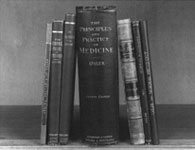 Sir William Osler: An Annotated Bibliography with Illustrations Edited By Richard L. Golden, M.D.
& Charles G. Roland, M.D.
$150.00
Limited to 1000 copies. 214pp. 105 illus. 8½" × 11". Cloth, dust jacket, acid-free paper. ISBN 0-930405-00-5. 1988. Norman Bibliography Series, No. 1. NP10331.
» Skip to: About the Authors | Reviews
This extensively illustrated and definitive bibliography of Osler's prolific writings represents the first new work on the subject in 50 years. To make the book appeal to the widest range of readers, including those previously unfamiliar with Osler's writings, this edition is published in display format, with 105 illustrations fully captioned and integrated with the text. The illustrations have been selected to emphasize how Osler worked as a clinician, teacher, writer and book collector; many of them are reproduced here for the first time.
About the Authors
Richard L. Golden, MD, a retired internist, is Assistant Professor of Clinical Medicine at the State University of New York at Stony Brook. He has published over one hundred papers on clinical subjects and the history of medicine. He has written a number of articles on Sir William Osler and is the author of Osler and Oriental Medicine (Science Press Associates, Inc., 1982) and Oslerian Verse: An Annotated Anthology (McGill University Press, 1992). He is Curator of the Osler Library at McGill University, Chairman of the History of Medicine at the Suffolk Academy of Medicine (Long Island), and Past President of the American Osler Society.
Charles G. Roland, MD, DSc, is Jason A. Hannah Professor of the History of Medicine at McMaster University, Hamilton, Ontario. He has been Editor-in-Chief of the Canadian Bulletin of Medical History, and is Past President of the Canadian Society for the History of Medicine. Dr. Roland is also Past President of the American Osler Society and the author of numerous papers and editor of several books about William Osler, including William Osler: The Continuing Education (with J. P. McGovern, Charles C Thomas, 1969); William Osler's "The Master Word in Medicine": A Study in Rhetoric (Charles C Thomas, 1972); The Collected Essays of Sir William Osler: Volume I, The philosophical Essays (with J. P. McGovern, The Classics of Medicine Library, 1985); and The Persisting Osler: Selected Transactions of the First Ten Years of the American Osler Society (with J. A. Barondess and J. P. McGovern, University Park Press, 1985). In addition, he has published Courage Under Siege: Starvation, Disease, and Death in the Warsaw Ghetto (Oxford University Press, 1992) and Secondary Sources in the History of Canadian Medicine: A Bibliography (Wilfrid Laurier University Press, 1984).
Reviews
"It is both a pleasure to use and a pleasure to browse through."
—From Antiquarian Book Monthly Review (March 1989): 106
---
"This volume belongs in all medical libraries and is an indispensable guide to Osler's massive literary output. William Bean says it very well in his foreword: 'This book will please old friends and make new ones.'"
—From The Bulletin of the History of Medicine 63(1989): 319–320
---
Sir William Osler's personality and writings exert a continuing fascination. Minnie Wright Blogg's bibliography of 1919 was quickly superseded by Maude E. Abbott's Classified and annotated bibliography of 1926 (second edition 1939) and this is now revised and updated in the present handsome volume.
Much new material has been added and there is now a special section for the humorous pieces published under the pseudonym E. Y. Davis, but Abbott's basic text is still recognizable. However, her utilitarian handlist has been transformed into a lavishly illustrated bio-bibliography, generously set out in an attractive typeface and a pleasure to handle. The well-chosen illustrations cover all periods of Osler's life and there is a selection of reprinted biographical articles, slanted towards his bibliophilic side—doubtless a reflection of the expected readership. (Incidentally, the preface credits Osler with the foundation of the Medical Library Association; as the text makes clear, this should read "the short-lived (British) Medical Library Association".) An improvement on Abbott is that entries are numbered but it is a pity that the running-titles now appear in small type at the foot of the page.
Like its predecessors the book aims at a listing of Osler's writings and generally avoids such bibliographical niceties as transcribed titles and detailed collations. For The principles and practice of medicine, Richard J. Wolfe's meticulous bibliographical analysis is reproduced, with each entry separately numbered (though without a single title-transcription), but this is an exception; all the editions and translations of Aequanimitas, for example, appear in a single unwieldy paragraph. More might have been said about separate printings of periodical articles. The text barely hints at their existence but the title-pages of several are illustrated and demonstrate some claim to independent bibliographical status.
If some opportunities have been missed, the book still makes an auspicious debut for its publisher and is unlikely to be superseded.
—John Symons, Wellcome Institute
From Medical History vol. 34(1), January 1990
©The Trustee, The Wellcome Trust
---
This book—an annotated and illustrated bibliography—provides an enjoyable read and a welcome book of reference. Osler might well have approved of it for he wrote that, 'the results of bibliography are too often recorded in tomes of intolerable dullness. The merit that appeals to me is a combination of biography with bibliography.' Richard Golden and Charles Roland, with the help of a sympathetic publisher, have produced just such a combination—recording much of both the man and his writings.
The Osler 'Greats' all appear. In his Cartwright Lectures in 1886 he became the first to record the aggregation of the blood platelets which takes place as soon as blood is withdrawn from the body (Osler's phenomenon). With William Gardner, in 1877, he provided the first complete account of pernicious anaemia. In 1887, from his autopsy studies, he provided an account of abdominal tumours which remains of permanent clinicopathological value. In 1830, in an account which includes the original description of 'Osler's nodes' he provided the definitive clinical description of the chronic infectious endocarditis which we now call subacute bacterial endocarditis. Finally, and late in his life, he made a substantial contribution by providing an excellent account of the severe anaemias of pregnancy and the postpartum period.
A whole chapter of the book is devoted to the editions, printings and translations of the great 'Principles of Medicine' which was eventually to run through 16 editions during 55 years in print. Most of the other sections of the book are divided to consider successively Osler's Canadian Period (1869–1884), the Philadelphia Period (1884–1889), the Baltimore Period (1890–1905) and the Oxford Period (1905–1919). The method of presentation emphasizes the way in which Osler's vast knowledge and experience of pathology underlay his subsequent clinical and literary achievements.
Those connected with the Royal Society of Medicine do, of course, have a special interest in Osler's late Oxford Period when, as Regius Professor of Medicine, he played an important part in the beginning years of the Society as we know it. Item 1010 in this bibliography records his delivery on 20 November, 1912, of his contribution to the inaugural meeting of the RSM Section of the History of Medicine—a section of which he was the first President.
The illustrations to this volume provide a number of photographs of Osler and his family which are not readily available elsewhere. A bibliography, to be maximally useful, needs an index-and this book provides one of 33 pages. The substantial contributions of earlier Osler bibliographers are noted and acknowledged. The book is printed to a very acceptable standard on acid free paper which should give this attractive work a longevity which it deserves.
—R.D. Mann
Medical Services Secretary, Royal Society of Medicine
From The Journal of the Royal Society of Medicine 81, no. 11 (1988)
---
It is nearly 70 years since William Osler died, and although few people are alive today who actually knew him, interest in this remarkable man and his writings remains as keen as ever. We must turn to the historians of medicine and to his own publications to find why he had such a great impact on the humanistic, philosophical and literary aspects of medicine.
The two-volume Life of Sir William Osler by his devoted friend Harvey Cushing must be regarded as one of the finest of all medical biographies, while Garrison wrote of him: "When he came to die, Osler was, in a very real sense, the greatest physician of our time. He was one of Nature's chosen. Good looks, distinction, blithe, benignant manners, a sunbright personality, radiant with kind feeling and good will towards his fellow men, an Apollonian poise, swiftness and surety of thought and speech, every gift of the gods was his; and to these were added careful training, unsurpassed clinical ability, the widest knowledge of his subject, the deepest interest in everything human, and a serene hold on his fellows, that was as a seal set upon them… His writings have been aptly described as belonging to the 'true literature of power'."
It is no wonder that today several societies named after him exist to discuss medico-historical topics and Osler himself. Besides, being a great physician, he was a distinguished bibliographer and a discriminating book collector, outstanding among medical bibliophiles, as is evidenced by his monumental Bibliotheca Osleriana, conceived in about 1914 but published after his death. The two principles on which he collected books were the interest in the author and the special impress that the book had made on the history of medicine. He was President of the Bibliographical Society from 1913 to 1919 and his presidential address before the Society in 1914 resulted in the Incunabula medica; left unfinished, this was eventually, published in 1923. He pioneered the shortlived (1909–1914) [British] Medical Library Association. He had already, in 1906, proposed a school of librarianship (in Oxford), a suggestion brought to fruition at University College London in 1919. He also made contributions to the professional library scene in the USA. He was a generous donor of books to medical libraries.
Osler's prolific literary output reflected all these interests. The first bibliography of his writings was published in 192l by Minnie Blogg, librarian at Johns Hopkins Hospital, Baltimore, where Osler was professor from 1889 to 1904. This was extended and revised by Osler's fellow Canadian Maude Abbott, who published a Classified and annotated; bibliography of the publications of Sir William Osler, Bart., F.R.S. in 1926, with a second revised and indexed edition (163 pp.) under a shorter title in 1939.
Richard L. Golden and Charles G. Roland have based their new definitive bibliography on Maude Abbott's Bibliography. It represents the first new work for 50 years to list and describe Osler's considerable literary output. There are 1493 entries, many of them annotated, and the book includes 105 illustrations, carefully selected to illustrate his work as teacher, clinician, writer and bibliophile. Some of the illustrations are published for the first time and will be of special interest to Oslerians. A chapter is devoted to the editions, printings and translations of Osler's Principles and practice of medicine, for many years the most popular textbook of medicine in the English language. An appendix throws light on the background of the Bibliotheca Osleriana and Osler's role as book collector, and it is a pleasure to see reprinted here Leonard Payne's essay on 'Osler as bibliophile', which first appeared in Oslerian anniversary, the record of the Osler Club of London's meeting at the Royal College of Physicians in 1976. This appendix also includes Ellen B. Wells' 'Books for the Bibliotheca: a study of Sir William Osler's book bills', originally published in Osler Library Newsletter in 1977, and John F. Fulton's 'The story of the Osler catalogue, 1922–1929, by a somewhat prejudiced observer', which first appeared in 1956. A second appendix provides a background to the papers written by Osler under the pseudonym Egerton Yorrick Davis (listed as items 1363–1374 in the Bibliography) and often demonstrating his sense of humour and love for practical jokes. There is a comprehensive index.
This elegantly produced book, No. 1 of the new Norman Bibliography series, augurs well for future volumes. Jeremy Norman has himself played no small part in its production. It will be a delight to Oslerians, a collector's piece for medical bibliophiles, and a welcome addition to the literature on the history of medicine.
—Leslie T. Morton
From Health Libraries Review 5(4) (December 1988): 268–269.
back to top