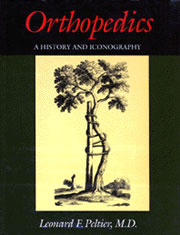 Orthopedics: A History and Iconography Leonard F. Peltier, M.D.
$225.00
This companion volume to Fractures: A History and Iconography of Their Treatment traces the development of the specialty up to the present day, focusing on the patient and disease rather than the physician. Extensively illustrated with plates from the original sources.
305pp. 332 illus. Cloth, dust jacket, acid-free paper. ISBN 0-930405-47-1. 1993. Norman Orthopedic Series, No. 3; Norman Surgery Series, No. 5. NP16308
» Skip to: About the Author | Reviews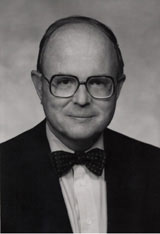 About the Author
Leonard F. Peltier, MD, PhD, was raised in Lincoln, Nebraska, and graduated from the University of Nebraska. His medical education and specialty training in general surgery and orthopedic surgery were obtained at the University of Minnesota, where he was a Markle Scholar. After serving as Head of the Section of Orthopedic Surgery at the University of Kansas for fifteen years, he moved to Tucson in 1971 and established the orthopedic program at the new College of Medicine of the University of Arizona. There he was the Head of the Section of Orthopedic Surgery for fifteen years and served an additional period as acting head of the Department of Surgery before his retirement in 1990. He died in 2003.
Dr. Peltier served on the Committee on Trauma, the Committee on Postgraduate Education, and the Board of Governors of the American College of Surgeons.
Dr. Peltier published nearly 200 scientific papers and several books, including Fractures: A History and Iconography of Their Treatment (1990) and Orthopedics: A History and Iconography (1993). Many of his papers dealt with the history of surgery. He served on the editorial board of, or as a consultant to, several journals, including Surgery, Journal of Trauma, Journal of Surgical Oncology, Journal of Bone and Joint Surgery, and Clinical Orthopaedics and Related Research. A biography by Lo Vecchio, Reckling and Reckling, "Onward and Upward": The Career Trajectory and Memories of Leonard F. Peltier, M.D., Ph.D., was published in 2004.
Reviews
This companion volume to Fractures: A History and Iconography of Their Treatment by the same author and publisher, is equally well researched and produced. In addition to 332 illustrations of patients, apparatus, x-rays, instruments, operative procedures and practitioners, there are apposite quotations, often lengthy, from authors who advanced the specialty of orthopaedic surgery. This well-balanced selection of material offers a coherent portrayal which will appeal to a wide readership and should be obligatory study for all trainee orthopaedic surgeons.
As Dr. Peltier indicates, "orthopedics" may not be an appropriate title because of its special association with children. This deformed adjective used as a noun is more clearly "orthopaedic surgery" or more concisely "orthosurgery", that is rectifying or corrective surgery which spans all ages. Claimed to be "a history orientated towards the patient and disease rather than toward the physician", there are many observations and photographs of actual patients, yet inevitably long sections are devoted to discoveries and discoverers, accompanied by brief biographies and usually a portrait.
The introductory chapter surveys "crippledom" across many centuries, and the second an eighteenth-century origin for orthopaedic surgery, attributing unproven influence to Nicolas Andry who in 1741 introduced the word "orthopedic", which remained dormant for almost a century, and whose treatise, written exclusively for parents, lacked any substance for surgeons. Before Ludwig Stromeyer's pioneering minimally invasive subcutaneous tenotomies in the 1830s, undue credit is bestowed on Jacques-Mathieu Delpech for a procedure he never performed, for his was an open heel tenotomy utilizing two incisions, undertaken once and never repeated. Subsequent chapters focus on pathological themes, embracing congenital deformities, deficiency diseases, infections (including tuberculosis and poliomyelitis), neurological problems, arthritis and tumours.
The frontispiece reproduces a procession of thirty cripples by Hieronymus Bosch which includes twelve amputees, highly unrepresentative of orthopaedic ethic and practice. In a similar vein, the rationale of circumventing amputation by joint exsection, arthrodesis, excision arthroplasty, trephining for chronic bone abcess, malignant turnout resection and skeletal replacement is not emphasized. Curiously neither the spectacular metallic prostheses which have transformed the lives of adolescents with sarcomata, nor joint prostheses which have revolutionized arthritis are illustrated.
These points apart, Dr Peltier has summarized succinctly and illuminated superbly the development and flowering of a major tree in the field of surgery, now two centuries old and still growing vigorously. The references and index are comprehensive and meticulous. Only the price is controversial.
—John Kirkup, Royal College of Surgeons of England
From Medical History 38 (1994): 352. ©The Trustee, The Wellcome Trust
---
This book has many virtues to recommend it to the reader, including the scholarship of the author, who presents the history of various diseases and the corresponding physical appearance of the patient, interspersed with extensive use of the words of those who first described the conditions. This approach gives particular importance to the functional effects of conditions, such as poliomyelitis, not usually found in medical texts. Peltier also describes the institutions that deal with musculoskeletal conditions, such as tuberculosis of the spine, and the practitioners involved in treatment.
It was particularly interesting, in the chapter on the origin of orthopaedics, to note that André (considered the father of orthopaedics) wrote his book (which includes the famous picture of the "orthopaedic tree") for parents and others who raise children, rather than as a text about any specific condition.
This book was obviously a labor of love, and Peltier's special interests are evident. The chapters on congenital deformities, including club foot and congenital dysplasia of the hip, and metabolic diseases, such as osteomyelitis, scoliosis, and poliomyelitis, make the book especially worthwhile to own.
As in any labor of love, there are blind spots that allow the bias of the author to creep in. In the chapter on poliomyelitis, too much attention and credit are given to Sister Kenney, who, at the time of her appearance from Australia, was considered a fanatic about her method of treatment. Studies by others during that period have indicated that simpler methods gave better results. The very thorough review of the history of Pott disease, in the chapter on tuberculosis of bones and joints, more than makes up for this minor bias.
Interspersed among the descriptions of the various diseases and conditions is commentary on the use of braces and splints, including devices for the correction of contractures of joints that have rivaled those employed in the Spanish Inquisition.
No book is perfect, there are always errors of omission and commission, including the biases of the author, and the reader also has preferences as to what should have been included or omitted. In the chapter on metabolic diseases, in describing the use of orange juice and other citrus juices in the prevention and treatment of scurvy by the British Navy, the author might have mentioned the use of the word limey (because limes were carried aboard the ships) to refer to the sailors.
The chapter on tumors of bone and soft tissues has excellent descriptions of various tumors and of the people who were involved in the development of that field of study. The views of Brailsford, however, differ sharply from those of American orthopaedic surgeons, since we believe that most decisions regarding treatment must be based on a biopsy, which is an essential part of the identification of a tumor, rather than primarily on clinical and radiographic grounds, as he proposed.
On page 279, lines 7, 16, and 42: the use of the word autologous when allograft is meant is confusing. Autologous is synonymous with autogenous, not homologous, and the reader will be confused.
Peltier deserves to be commended for this book, which should be read by anyone interested in orthopaedics and its leaders.
—Michael Bonfiglio, M.D.
From The Journal of Bone and Joint Surgery 75-A, no. 10 (October 1993), 1581-1582.
---
As health care professionals, we have a tendency to use a significant amount of our spare time on updating, continuing education, and reading professional literature. Many of us feel guilty if we spend this time reading literature that does not directly relate to our world of medicine. Orthopaedics: A History and Iconography is a book that can satisfy two reading urges, enriching our professional knowledge as well as our cultural experience.
Dr. Peltier takes readers through a spectrum of orthopaedic pathology, starting in the days of the ancient Greeks and finishing with the present. In the initial chapter, he sets the stage by discussing society's attitudes toward orthopaedic abnormalities throughout the centuries. This is followed by a chapter on the emergence of actual orthopaedic medicine in the 16th and 17th century. The remaining nine chapters discuss the history of orthopaedics as it relates to a specific disease category. Categories ranging from congenital deformities and musculoskeletal infections to neurologic and joint diseases are covered from the time they were first recognized until the post-World War II era when more modern diagnostic and therapeutic approaches were developed.
In a clear writing style, the author identifies pivotal events and extraordinary physicians and researchers who shaped the history of orthopaedics. Commonly used eponyms that may have been meaningless to most of us before will come alive and take on new meaning. This book is richly illustrated with many original illustrations from early manuscripts.
For physicians and therapists who devote much of their practice to musculoskeletal problems, this book can be a great addition to their library. On one hand, it will make clear how far we have come, but on the other hand, it may prevent some of us from making the same mistakes made by some of our predecessors.
—Louis C. Almekinders, MD
University of North Carolina at Chapel Hill
Chapel Hill, NC
From The Journal of Orthopaedic & Sports Physical Therapy 25, 6(June 1997): 415.
back to top