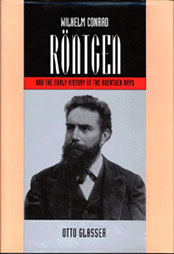 Wilhelm Conrad Röntgen and the Early History of the Roentgen Rays Otto Glasser
$150.00
Röngten's discovery of X-rays at the end of 1895 immediately captured both the scientific and popular imaginations, and catapulted him to international fame, culminating in his receipt of the first Nobel Prize for physics in 1901. Otto Glasser's Wilhelm Conrad Röntgen, here reprinted in its entirety from the 1933 English translation, is the most comprehensive biography of Röntgen ever written, presenting the full story of his life and work. With nearly 100 illustrations, and an extensive history of the acceptance and application of X-rays in the period just following Röntgen's discovery.
Limited to 750 copies. 494pp. 96 illus. 6" × 9". Cloth, dust jacket, acid-free paper. ISBN 0-930405-22-6. 1993. Norman Radiology Series No. 1; Norman Science/Technology Series No. 2. NP13807.
back to top